The Pele family celebrated Christmas at the Albert Einstein Hospital in São Paulo. Daughter Kelly Nascimento published a picture of the dawn of the day with the family together, but indicated Pele's absence in the picture: "Almost all." The pellet is anesthetized as part of palliative care.
"Almost everything. Merry Christmas. Gratitude, love, union, family. The essence of Christmas. Thank you all for all the love and light you send. In this crazy and amazing life, I would be nothing without them," Kelly wrote, captioning the photo posted on Instagram. . The photo was shared by Kelly's sister, Flavia Arantes do Nascimento.
The action intensified in the King's Chamber on Christmas Eve: the family – children and grandchildren – had been arriving all day, each from a different corner of Brazil, to spend Christmas with him.
Son Edinho was Londrina's most anticipated coach By people waiting outside the hospital for any sign of news. Edinho had left Paraná on Friday (23rd) to join his family in the hospital and arrived at the scene early yesterday afternoon (24th).
Daughters Kelly and Flavia were already at Einstein and Edinho joined them.
A pellet is anesthetized as part of palliative therapy
In the latest newsletter from the hospital, it was reported about the development of neoplastic disease – a progression of colon cancer that has been treated since last year.
Doctors pay special attention to "renal and heart defects".
The daughter and the king
On Friday night, her daughter Kelly posted a photo in her father's arms, for "another night together," as she captioned it. Pele was taken to the hospital on November 29 for a chemotherapy reassessment.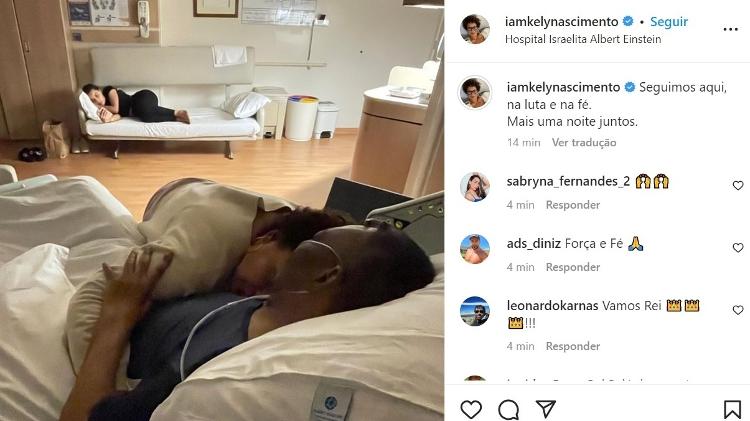 Santos changes uniform
Santos will change the team's kit in honor of Pele🇧🇷
For the 2023 season, Santos will wear a crown over the shield.
This information was confirmed by the head of the consultative council of the club Celso Gatien.
The change in the King's uniform was provided for by the new statutes, which were approved by the Council itself and the club's members.
"Evil analyst. Explorer. Problem solver. Hardcore zombieaholic. Coffee fan. Writer. Bacon aficionado. Friendly reader."